84 Aldrich Street, Uxbridge MA 01569
Directions

Tree Sales closed for the season - thanks for another great year!
We need to save trees for next year and hope to see you in 2023.

*** NEW IN 2022 ***
Open Fridays thru Sundays
10:00 AM to 4:00 PM
(November 25 thru December 18)
Huge inventory of beautiful trees for 2022!
Uxbridge Board of Health inspection 9/4/20 reported:
"Had a full tour of facilities and went over all protocols. Beautiful grounds.
Following all COVID-19 and FDA code requirements."

Opening Day for Trees is Friday, November 25, 2022
Horse-Drawn Wagon Rides by Liberty Farm & Carriage Company
from 10:00am to 4:00pm — $5 per person
Liberty Farm & Carriage Company

Testimonials:
Perfect trees as always. Boots, umbrellas and we found our perfect tree very quickly.
— Donna Evans (Facebook)
I was there today with my family. What a wonderful experience. Your Christmas trees are awesome. It was great to walk around looking to find the perfect tree. Even though it was sprinkling, the walk in the woods/field was great. Everyone we encountered was helpful, but, a special thank you to the nicest gentleman who cut our tree for us. I believe his name was Richard; he really seemed to know what he was doing, had an awesome personality and was all around helpful with the questions I had about where to pick up my tree. He seems like he really enjoys his job, the customers, and even my golden retriever. Kudos to you for having such nice people working for you.
— Adam O'Byrne (Facebook)

Christmas arrives early for area tree farms
READ TELEGRAM & GAZETTE ARTICLE
Uxbridge farm recognized for "Green Friday" efforts
READ BLACKSTONE VALLEY TRIBUNE ARTICLE
Baker-Polito Administration Declares November 27, 2020 as "Green Friday"
Governor's Proclamation presented to Dave and Vicki Morin
for the Massachusetts Christmas Tree Association
From left to right: State Representative Michael Soter (R-Bellingham), Arrowhead Acres Owners Dave and Vicki Morin,
Massachusetts Department of Agricultural Resources (MDAR) Commissioner John Lebeaux, MDAR Deputy Commissioner Ashley Randle.

Our Canine Visitors!
Some of the dogs that came to visit with us this past Christmas...

Photo Ops!
Bring your camera for great family photo ops with our stuffed toys, decorated fireplace, and giant Christmas tree!
Many of our customers use their photos for Christmas Cards.
Welcome Center, Heated Restrooms, and Snack Bar
12 different fields to choose from located on 48 acres
Arrowhead Acres is open for trees the Friday after Thanksgiving.
NOTE: We No Longer Offer Pre-Tagging
We are dog friendly. Dogs on leashes are welcome to join you in your search for the perfect tree.
We ask that you keep dogs away from the animal and poultry displays since they don't know
the difference between a dog and coyote, which terrorizes them for good reason.
*** NEW IN 2022 ***
Open Friday thru Sunday
10:00 AM to 4:00 PM
(November 25 thru December 18)
Tree cutters should be in the fields no later than 3:30 PM
in order to have enough daylight to find a tree.
ALL TREES $80 (plus tax)
Arrowhead Acres featured in The Worcester Telegraph & Gazette
November 23, 2014
READ ARTICLE
Approximately 35,000 trees (Balsam, Fraser, and Concolor) grow on the farm. After Thanksgiving, families come to Arrowhead Acres and cut their own tree or have us cut it for them.
Tree cutting, transportation out of the fields, shaking, drilling, and netting are all provided at no charge. We will place the tree in/on your vehicle, but our insurance will not allow us to tie the tree down for you. We do provide step stools and baling twine at no charge. Customers do not need to touch the tree until it arrives at their vehicle or they can do it all, if desired.
— TREE PURCHASE INCLUDES —
FREE netting
FREE tree shaking to remove loose needles.
FREE tree cutting and transportation
FREE drilling for unique Easy-On/Easy-Off tree stands
— ALSO AVAILABLE —
Tree Disposal Bags
$4.00

Easy On-Off Stands
No adjustment screws. A couple of hits with a hammer and the tree stand is on straight and secure. Spin the stand counter-clockwise and it is off. A precise machine drilled hole (we provide at no charge) in the base of the tree is the secret to a perfectly straight installation. A large capacity water bowl is an important feature of these stands. Ask for a demonstration!
$50 -- up to a 10' Tree
Customer Photos
We are the Bushnell family from North Smithfield & Woonsocket, RI. We've been coming to Arrowhead Acres for our Christmas Trees for nearly 20 years. Tree day has become a yearly tradition for our family. The kids love to run and find our tree, then enjoy snacks and hot chocolate indoors, visiting the animals, and then get annoyed by my million family picture taking .( One of those pictures is normally used for my Christmas card, so I need to get it just right). As our family grows with marriages and kids, I don't see this tradition ending anytime soon ♥️. Happy holidays and thank you for the years of wonderful memories! Tree day is now my favorite day is the year.

Christmas Crew/Family
Opening Day... Horse drawn wagon rides provided by Liberty Farm
Dave (Owner) - Welcomes customers, provides maps, directs customers to the tree fields and explains how the process works. Also explains the differences between tree types and answers any technical questions related to the trees. Currently gaining experience for his resume and a possible future job at Walmart.

Tree Cutters – Chris, Stephen, and Shawn (Daughter) – They cut the trees, trim the bases, attach a claim check with instructions for the Processors (Shake, Net, Drill, etc.). They take the tree out of the field to waiting trolley drivers or drive the tree to the processing building themselves.
Trolley Drivers – Travis (Grandson-in-Law) and Todd (Son-in-law) – They transport the trees from the fields to the Processors. In addition, Todd is the Chief Mechanic for everything that breaks at the worst possible times, and Travis cuts firewood to keep the campfires blazing.
Cashiers – Vicki (Owner), Lori (Daughter), and Ashley (Granddaughter) – They ring up customer sales, sell tree stands & tree disposal bags, and man the snack bar serving popcorn, hot dogs, chips, cookies, hot drinks, etc.
Processors - Back row: Garry (Supervisor - yellow vest), James (Grandson) Front Row:(left to right) James, Ryan, Andrew, Josh L., Josh, Garret, and Tyler – They receive the trees as they come in from the fields, put them on the shaking machines to remove all loose needles, drill the base if the customer has one of our easy on-off stands, and put the tree through a compressing funnel to wrap the tree in netting. Once they identify the customer that owns the tree based on the claim check numbers, they carry the tree to the customer's vehicle.
Future Tree Farmer – Tanner (Great Grandson) – He plays computer games, colors, helps his father cut firewood, and tries to stay out of trouble.
The Arrowhead Acres family photo during an unexpected visit
by Santa. Left to right - Vicki, Santa, Shawn, and Dave
Photo courtesy of Erica Tripp Photography
Arrowhead Acres featured in The Woonsocket Call
October 19, 2013
READ ARTICLE

The Christmas Tree That Became a 2011/2012 Holiday Tree
CLICK HERE

---
Beautiful Trees...
Great Customer Service

Tree Trolley service is provided
to transport customer trees.

Customers are greeted and given
directions to requested tree types.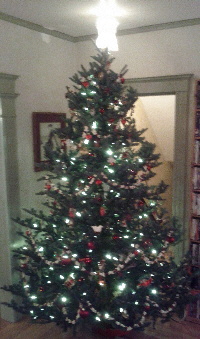 Thank you so much for the wonderful experience we had last Christmas in choosing and cutting our Christmas tree at Arrowhead Acres. For decades, we've been cutting our own tree the day after Thanksgiving. When our regular tree farm closed, we found another place with lovely trees in a beautiful setting. However, their trees tended to be somewhat dry. With drought conditions so extreme last year, we couldn't find a suitable tree there, so I checked the internet for somewhere else to look. When I called ahead, the woman at Arrowhead Acres with whom I spoke claimed that their trees were not dry, and she were right. We got a beautiful tree the day after Thanksgiving that lasted until the Super Bowl without dropping needles. We'll definitely be back this year to choose our tree for Christmas 2017. — Carol, Arlington, MA
P.S. The picture that I've attached doesn't do the tree justice, but might give you some idea of how the tree looked in our home.
Dear Dave and Vicki,
The words "Thank You" cannot express our family's gratitude! Not only did you open "off season" but you didn't charge us full price for our tree! Our son's leave was complete! We had Thanksgiving, a tree decorating party and Christmas! Without you this would not have been possible. Sometimes we forget how truly wonderful the world can be. Grateful acts such as yours remind us on a daily basis.

Thank you and have a blessed day — Fred & Jennifer, Kevin & Justin (our soldier)
Dave and Vicki,
Merry Christmas and Happy New Year 2013! Thanks for another year with a beautiful tree! — Stephanie & Mike B. (August 2011 AAcres wedding)
Thanks for a Great Christmas Tree Gathering Experience!
Hi Dave and Vicki,
Just wanted to thank you for our best Christmas Tree ever... and to send some pix that you can hopefully share with Fred and Cindy who helped us find and gather our tree (who we fondly named "Henry").
We were the family who had traveled for the "White Pine" but ended up with Henry... And we couldn't have been happier.
Everyone was so friendly and warm and helpful. It was a fantastic afternoon.
Christmas came and went and we didn't have the heart to get rid of Henry. So, we've actually taken down the majority of his branches and needles and have decided to keep him in our Living Room year round ; ) We thought that after uprooting him after all those years at Arrowhead Acres we owed him a home!
June 21, 2011
The Christmas tree we bought last November (2010) was amazing. It only just now has started to brown. I never thought a Christmas tree would last this long haha. We will be sure to buy from you again every year and we will pass this info on to all our friends. — Billy C.
Dear Dave,
We just wanted to thank you for our tree this year. You offered us the Concolor Fir you'd used in your function hall. We loved it! It was a joy to keep and it meaningfully improved our Christmas. Our two-year-old daughter took every opportunity to show off the tree. I can be a bit of a humbug; my favorite part of Christmas is usually getting the tree out of the house. This year I was sad to see it go. — Keith, Ann, and Adele
---
THE CHRISTMAS TREE THAT BECAME
A 2011/2012 HOLIDAY TREE
A customer sent us a photo of the Christmas Tree they cut on Thanksgiving weekend and then redecorated for Valentine's Day and again for Easter. We have had the photo of the unknown customer's Easter Tree on display in the window of one of our cashier booths for several years.
Old Holiday Tree Photo

My wife Vicki thought that was such a great story that she decided to go even further with it. The following is the documentation of what she did with our tree.
November 12, 2011
(1½ weeks before Thanksgiving)
The Fraser Fir tree was cut here at Arrowhead Acres and placed in our home.
November 19, 2011
The tree was decorated for the Thanksgiving/Christmas holiday season.
January 20, 2012
(over 2 months since cut)
Christmas Tree before redecorating for Valentine's Day.

February 14, 2012
(3 months since cut)
Valentine's Tree

March 17, 2012
(4 months since cut)
St. Patrick's Day Tree

April 8, 2012
(nearly 5 months since cut)
Easter Tree

The moral of this story is: No tree is fresher than the tree you watch being cut at a tree farm, and fresh trees properly cared for will hold their needles for months. The secret is putting them in water immediately after they are cut and making sure they don't run out of water.
This was an unscientific experiment and we don't recommend that you do this at home. Frankly, I was getting tired of looking at the tree by Easter, and it was getting quite dry having it indoors for almost 5 months. Note this was a cut tree – not balled in burlap.